Ninth Annual Conference
on Privacy, Security and Trust

July 19-21, 2011
Montreal, Quebec, Canada




Accommodations
Downtown Montreal
We have two hotels for you to choose from.
1. Hotel Maritime Plaza
Hotel Maritime Plaza
1155, rue Guy
Montreal, Québec
Canada
H3H 2K5
Phone: 514.932.1411
Toll-Free: 800.363.6255
Fax: 514.932.0446

http://www.hotelmaritime.com
Group Code: "Concordia Institute for Information Systems Engineering"
Executive Rooms $122.00 per room per night, inclusive of high-speed internet and local calls
for single or double occupancy. For triple occupancy + 20$ and for quad occupancy +40$
Room Tax 3% + 5% GST + 8. 5% PST per room night

This room block will be held until June 19th, 2011, after which time, rooms not reserved will automatically be released and standard room will apply based upon availability.
No discounts or membership cards will be applicable on these rates.
All bookings are required to be made directly with the hotel and are required to be guaranteed with a credit card number upon making reservations.

2. Le Nouvel Hôtel & Spa
1740 René-Lévesque West
Montreal, Quebec
H3H 1R3
Canada

Toll-Free: 1(800) 363-6063
Telephone: (514) 931-8841
Fax: (514) 931-5581
http://www.lenouvelhotel.com/
Group Code: 523893

Single/Double - 1 King at 122$. Additional person: $ 20.00, 4 pers. maximum per room
Any additional costs such as meals, baggage shipping, taxes, etc. will be applied in addition and subject to applicable taxes, plus 15% service charge applicable to food and beverages. In addition, any room occupied and paid, is subject to a non-refundable lodging tax of 3.5% per room, combined GST (5%) and QST (8.5%). Only GST is refundable to non-resident Canadians. Fees may change without notice.

Travel Information
Traveling between downtown Montreal and Montréal-Trudeau airport.
There are two ways to reach the hotels and Concordia University from the airport:
The easiest way is to take a taxi, with a flat rate of $38 + tips from the airport to Downtown Montreal (any of the two conference hotels, or directly to Concordia).
Another way is take the 74 Express Bus, which operates 24 hours every day. $8/trip (accept fare card or coins, no bills).
http://www.stm.info/english/info/a-747.htm
(i) Get off at Guy (Station 2).
(ii) For Maritime Plaza, it is right across the road on Guy. For Le Nouvel Hotel, take a 5-min walk on Boul. Rene-Levesque West.
(iii) The conference venue at Concordia is at the corner of Guy and St. Catherine, just up Guy from the Maritime Plaza.
EV - Engineering, Computer Science
Visual Arts Integrated Complex
1515 St. Catherine W.,
Montreal, Quebec, Canada
Conference Location
The conference will be held at Concordia University on the Sir George Williams Campus. The presentations will take place in the Engineering, Computer Science and Visual Arts Integrated Complex (EV Building) that is situated at: 1515, Ste Catherine West, Montreal, Quebec, H3G 2W1.
Conference Registration

The registration will be in the Atrium of the EV-Building in front of the Amphitheaters EV-1605 and EV-1615.


Map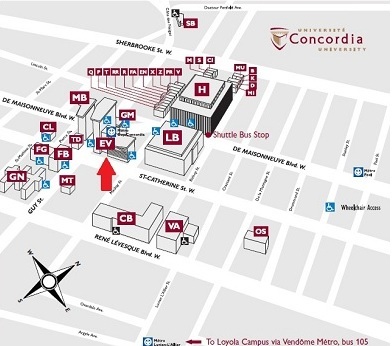 Picture of the EV Building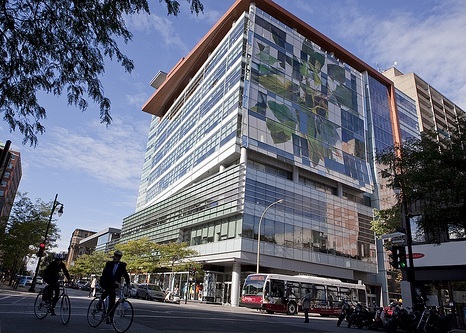 Here is also a link to the map of the Concordia campus:
http://www.concordia.ca/about/contact/campus-map/
Here are directions to the EV building: